DECA Heads to Nationals
National Qualifiers Prepare for Sunny Orlando, Florida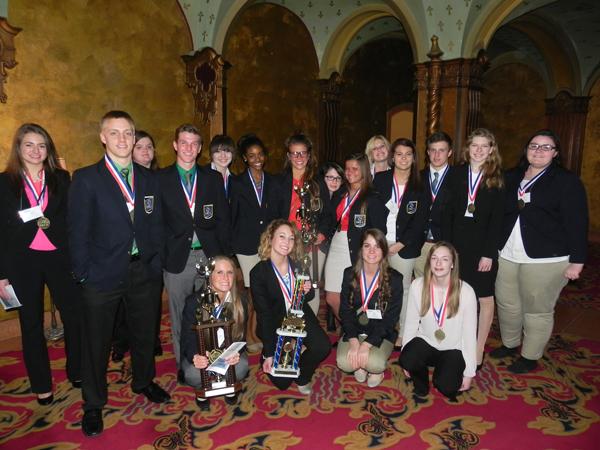 On March 13, Northmont DECA members took a weekend long trip to Columbus, Ohio where they competed in a statewide competition.
The Ohio Career Development Conference involved a large range of marketing and business related competitions. Students from all over wrote 11 to 30 page papers, organized presentations, and went through role plays hoping to show off their knowledge, and business and public speaking skills. Creativity was also a key aspect of many events.
"My event allowed me to bring out my creative side by designing an eco-tour to Costa Rica for high schoolers. I put in a lot of hours perfecting my presentation," said senior Caitlin Cuesta.
Preparation required a lot of time inside and outside of instruction time.
"I was here for about two hours every day for two weeks straight," said junior Riley Jenkins.
The conference was a chance for DECA students to demonstrate professionalism and represent the program, chapter and Northmont district positively.
The Northmont DECA chapter was quite successful at the CDC. A total of 18 Northmont students made it into the Top 10 for their event:
Finance Research – Ashton Rentz, Allison Ward, and Mary Yagisawa
Restaurant and Food – Haley Myers
Learn and Earn – Riley Jenkins, Tanner Lee, and Alex Despain
Business Finance – Emily Roach
Principals of Marketing – Sarah Adakov
Principals of Business and Administration – Courtney Eillerman
Entrepreneurship Participating Franchising – Adrienne Draper
National qualifiers include the Financial Literacy team with Kirsten Pullins, Sierra Sanders, and Naomi Baker (second place), the Creative Marketing team made up of Sydney Danklef, Ryan Smith, and JT Mackay (third place), and Caitlin Cuesta for Hospitality and Professional Selling (second place).
Students' excitement is rising as the trip gets closer.
"I am most excited to have the opportunity to show off my summer wardrobe a few months early and, of course, the opportunity to compete at the national level and hopefully bring home a nice trophy," said Cuesta.
Competitors also look forward to enjoying the attractions in Florida.
"We're looking forward to the opportunity to take our project to the next level of competition and spending time at Universal Studios," said senior JT Mackay.
The International Career Development Conference will take place April 24-28 in Orlando, Florida.