Your Editor Signs Off
The journalism program is ending a year of change, choice, and coverage.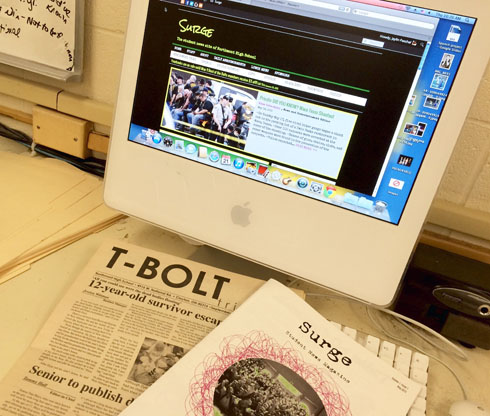 This school year, the Northmont Journalism was revamped. The T-Bolt Tribune, a print student news publication, caught up with the times and warped into Surge.
By taking the news digital, and printing a full-color magazine this year, Surge was able to reshape the program into something more timely, accessible, and ultimately, more relevant.
The new medium, new name, and new look lead to a new burst of energy and enthusiasm that spread school wide. A surge is, afterall, a sudden, powerful forward or upward movement. And with this movement, we hope that the journalism/publications program continues to grow and develop into something even better.
The change in the program was necessary, but not easy, and although the newspaper staff and I realized the need to adapt, we were still hesitant. Those of us who have been in the program for years had become accustomed to the way things worked, and operated in a T-Bolt-Tribune-certified pattern. For us, change was as nerve racking as it was exciting.
Saying goodbye to the Tribune was sad, but saying hello to Surge was refreshing. With a blank slate, we could restart and had the opportunity to shape the program into exactly what we wanted it to be.
As a student publication, we decided to truly be of, for, and by the students of Northmont High School, meaning we committed ourselves to covering the stories and issues that matter to the young adults surrounding us, regardless of the edge or effort required.
We chose to be observant and objective, providing the district with quick, informative sources.
We chose to be global and aware, reporting on major events worldwide.
We chose to be bold and honest, sharing our opinions on the controversial, but present and relative, issues of our lives.
We chose to be funny and entertaining, reviewing movies, discussing fashion trends, and giving haphazard advice.
We chose to be a platform for discussion, encouraging students and teachers to chime in on the subjects in our comments section.
We chose to be a surge, a powerful upward movement.
I am honored to have been editor of the publication that has ultimately restored appreciation for the student newspaper, constantly pushed the boundaries, and admittedly, kept Central Office on its toes.
I am grateful I was able to spend the year with these passionate, fearless writers and grow alongside them as student journalists. I'd like to thank the 2014-2015 newspaper staff for keeping their ears to the ground, meeting deadlines, and struggling through reading my editor's notes. I'd like to thank Mrs. Brannon for using her creativity and energetic spirit to transform the program, and for pushing us all to produce outstanding content. And I'd like to thank the readers for their overwhelming support and input.
Enjoy your summer.