Art on the Move
Mr. Robin Dakin Hits the Road With His Art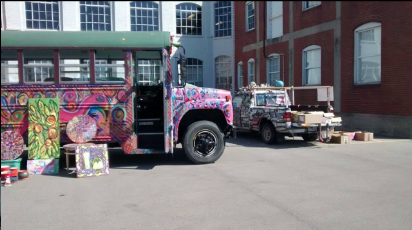 Art teacher Mr. Robin Dakin sells art. Out of his truck.
"The art truck is my rolling art gallery," said Dakin.
Dakin has always loved food trucks, which have been becoming increasingly popular in the Dayton area, so he decided to make a play on words and do an "art truck."
Dakin came up with the art truck idea after doing art shows and feeling like he had no control over how he got to sell his work. With the truck, his art is now easier to transport and he has more say. He can also just show up with his truck with less commitment.
Dakin sells his work downtown at the Second Street Market, the Yellow Cab, and the Third on Third Market.
He sells pottery, paintings, and walking sticks from the vehicle, and has been doing it for about a year and a half.  Dakin said he will continue doing it until "he or his truck die…or at least until it's no longer fun."
Dakin's future plans for the truck are to continue painting it, to make it more "whimsical." Also he wants to add shelves and and expand his sales.