Over the Moon!
Drama Club Performs "Moon Over Buffalo"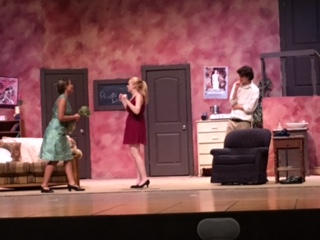 Drama Club takes the stage with Moon Over Buffalo.  The cast list was posted in early September:
George–Andrew Wood
Charlotte–Sydney Thomas
Roz–Shelby Gudorf
Paul–Matt Lucente
Eileen–Shelby Didier
Howard–Allen Van Luvender
Ethel–Lindsey Mutter
Richard–Aaron Quick
Male Understudy–Trey Hopkins
Female Understudy–Morgan Becker
The show centers around George and Charlotte Hay, two B-list movie stars in 1950s Buffalo, New York, who are part of an acting troupe in a production of Private Lives.
"(For George) Everything is about him," said senior Andrew Wood.
The Hays are known for their extravagant personalities.
"Charlotte is a diva, " said senior Sydney Thomas. "She's mellowed at times, but if you irritate her chaos ensues."
The couple may have a chance to return to their previous stardom, as well-known director Frank Capra is coming to see their matinee, and if he likes what he sees, he may cast the Hays in his next film.
"This director is coming to see them perform because the stars that he cast in his movie had an accident and can't perform anymore," said language arts teacher and director Ranger Puterbaugh. "So he's coming to them in the hopes that if their performance is good, he can cast them in his movie."
Unfortunately for the Hays, everything soon turns to chaos. Their daughter, Roz, comes back into town to visit and introduce her parents to her new fiance, Howard.
"Roz is the daughter of two crazy theatre people. She used to be part of the theatre company, but broke away because she wanted to live a 'normal' life," said senior Shelby Gudorf.
For Roz, Howard represents her chance for a normal life.
"He is just your average, normal guy, but he does have some issues," said junior Allen Van Luvender. "He tends to be a bit on the skittish side, especially throughout the course of the play, seeing that he is meeting his fiance's parents who are also his idols, so that's enough to unnerve any man, but especially Howard."
Things get complicated when the director of the acting troupe is Roz's ex-fiancé, Paul.
"Paul is the company manager for the acting company," said senior Matt Lucente. "This show is a very stressful time for him. He's always running around stage."
Amidst the drama already occurring, George and Charlotte Hay experience trouble in their marriage after Charlotte discovers that Eileen, an actress involved with Private Lives, is pregnant after a one-night-stand affair with George.
"She's got a lot of drama going on," said Shelby Didier. "She says a lot of things she shouldn't say and gets people in trouble."
After the affair is revealed, Charlotte threatens to leave George and marry a enthusiastic lawyer named Richard.
"He's a very confident person," said senior Aaron Quick. "He is trying to take George's wife away."
Confusion only worsens with Charlotte's hard-of-hearing mother, Ethel.
"Ethel is nearly deaf, so Charlotte is asking me to do stuff, and I don't hear her and make the problem worse," said sophomore Lindsey Mutter. "Puterbaugh put headphones on me so I can hardly hear anybody."
Anyone coming to see the show can look forward to slapstick comedy and intense plot lines.
"It's fast-paced, it's funny, and there's a lot of physical humor," said Puterbaugh. "So if you're in the mood for that, Moon Over Buffalo is the thing to see."
Drama Club is performing the show on Thursday, October 29, Friday, October 30, and Saturday, October 31 at 7:30 pm in the auditorium. The house will open for the audience to begin seating at 7:00 pm.