Coleman Bolts For the Record Books
Northmont Grad Headed to NFC Championship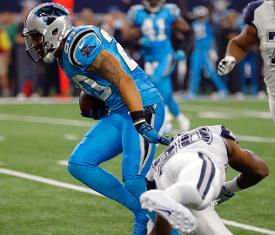 Northmont graduate Kurt Coleman was an all-state player in high school, a first-team All-American in college at Ohio State, and is on his way to being named an NFL Pro-Bowler.
Coleman, who graduated in 2006, went on to play all four years at The Ohio State University, leading the Buckeyes to four straight Big Ten titles, losing the national championship games in 2007 and 2008.
After being picked in the seventh round of the NFL draft and spending four years with the Philadelphia Eagles and one with the Kansas City Chiefs, he is now having a breakout season with the Carolina Panthers. The Panthers are the only 15-1 team in the league and have the number one seed in the NFC playoffs, after ending the regular season with the best record in the NFL. This is set to be Coleman's third appearance in the playoffs.
Coleman currently has 90 tackles, which topped his previous career high of 78. This season, he has recorded his first career sack and touchdown, while also being tied for third in the league for interceptions with seven.
On Thanksgiving, Coleman had his first career 'Pick 6' in the first minute of the game against the Cowboys. This helped him earn the All-Iron award for being one of the most valuable players in the CBS Thanksgiving Day NFL games.
Coleman is one of three Northmont alumni currently in the NFL. He joins Zebrie Sanders, an offensive tackle out of Florida State who is a free agent, as well as CJ Barnett who is a cornerback out of Ohio State and currently playing for the New York Giants.
Coleman and the Panthers take on the Arizona Cardinals on Sunday, January 24, at 6:05 pm.