Fair and Square
Fair Introduces Students to High School Activities
On Wednesday, January 27, students gathered in the Bolts Gym for the now-annual Activity Fair. During the event, students visited booths representing extracurricular activities, in hopes of helping students plan for their upcoming year. The event is sponsored by the Student Aspirations Team and included performances by the jazz band and a capella group, Catalyst.
Tables were spread out across the gym for each group, which were managed by members of each participating activity. These workers acted as representatives, answering questions and encouraging people to sign up.
Some students signed up to work more than one table.
"I did a booth for a capella, band, aspirations, world language, Spanish club, business, orchestra, and color guard," said junior Lamar Ross. "I am a part of all of them except guard and orchestra."
Students visited the event during their math class, collecting signatures from each booth they visited. By collecting ten signatures, a student became eligible to win a prize.
"I liked the chance to see all of the different clubs and organizations that we can participate in," said freshman Ryan Walker. "It gives you some insight for clubs you're interested in and a chance to sign up."
During the event, staff members participated in the #letskillthemonster Pie Challenge campaign to stop heroin usage. As teachers and administration took the pledge, they would and then have a plate full of whipped cream shoved in their faces.
"The club SADD (Students Against Destructive Decisions) wanted to showcase the pie challenge to bring awareness to the heroin epidemic," said student counsellor Ms. Sheree Coffman. "We pied 15 staff members and it was a great success."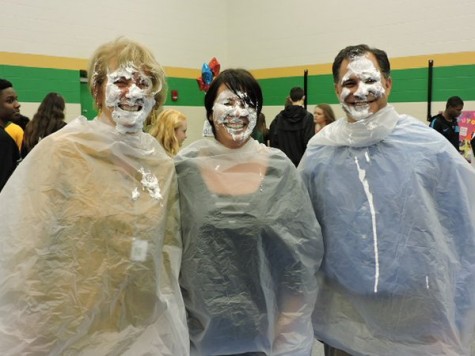 Staff members involved in the Pie Challenge included superintendent Dr. Sarah Zatik, assistant superintendent Mr. Tony Thomas, administrators Mr. George Caras, Mr. Greg Behrens, and Mr. Jason Inkrott, and student resource officer Mr. Jack Daughterty. Teachers Ms. Christine Hall, Mr. Matthew Shaltry, Mr. Matthew Maiken, Mr. Robin Dakin, Mr. Eric Wagner, Mr. Shane Kincer, Mr. Collin Abels, and Mr. Mike Smith also participated.
The Activity Fair allowed students the opportunity to learn about the classes, clubs, groups, and pies at the High School before scheduling began.