U-Korner: High School Football
Q & A with Anastasiia Skoryk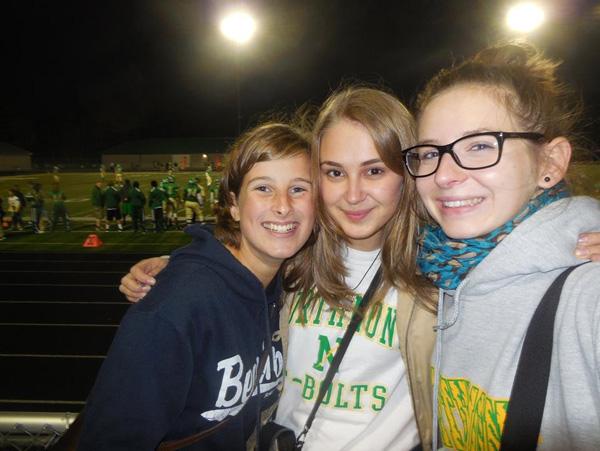 Q:  Can you describe the football game you attended?
A:  To be honest, I will never forget that evening. It was my first football game in America.
Q:  Did you enjoy the game?
A:  First, I was so confused. I know that Americans play FOOTball with their HANDS, but hearing about it and seeing it are different things. I didn't understand the rules at first. Later on, I liked this game so much, I think I will became big football fan in the future.
Q:  How does it compare to sports in Ukraine?
A:  In Europe, we have soccer. And yes, we call that FOOTball, which is more logical in my opinion.
Q:  What did you think of the atmosphere?
A:  The presentations of the teams before the game started was good. I have never seen something like that before in schools. The cheerleaders' presentation was really good as well. They did an excellent job and all of the people were very excited about that game. I was so impressed when I saw how many people went to football game. There was a lot of people and a lot of food! America is a food paradise! It was awesome!
Q:  How did the atmosphere compare to your experiences in Ukraine?
A:  In Ukraine, we do not have cheerleaders in our schools, but we still have a lot of fun without them. We sing different songs and scream. Our games are not as spectacular as America's. We have gymnastic competitions in our school, though, which are very beautiful.
Q: How did you react when the team lost?
A: Although the T-Bolts lost, it is only a beginning of a season. I hope that next game will be better and with new experiences, of course. I will go to the next football game and see. Next time, we will be the winners! Go T-Bolts!