Butler Trusts The Process
The Philadelphia 76ers Acquire All-star Jimmy Butler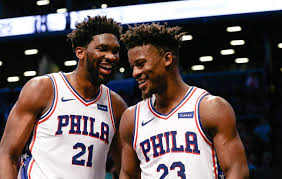 Hang on for a minute...we're trying to find some more stories you might like.
On Saturday, November 10, the Philadelphia 76ers announced their pursuit of all-star small forward Jimmy Butler. The deal was finalized on Monday, September 12. A deal that involved Jimmy Butler and Justin Patton leaving the Minnesota Timberwolves and joining the 76ers, in return for Robert Covington, Dario Saric and Jerryd Bayless.
With the biggest move in the Eastern conference this season, the 76ers are looking to improve their team that is loaded with young stars. While acquiring 4 time all-star Butler, the 76ers now have one of the most fierce defenses in the NBA.
While they currently sit at the 3rd seed in the Eastern conference, they are looking to build more team chemistry, and capitalize off of their most recently acquired super star.
The phrase "Trust the process" has been the mantra for the 76ers. The organization trusts Butler to get them to the NBA Finals for the first time since 2001 (ESPN).

About the Contributors
Justin Artz, Staff Writer
Justin Artz is a senior in his fourth year of journalism. He enjoys playing basketball, working out, and listening to music. You can find him hanging out...