Breaking the Silence
Time Names #MeToo Movement Person of the Year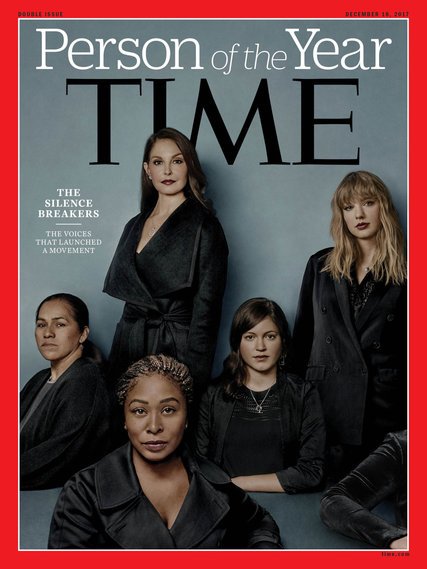 While 2017 has certainly been a wild ride, but one social movement has been especially prominent this year. The #MeToo has lead to many people coming forward with their stories of sexual assault. #MeToo was originally started over a decade ago by activist Tarana Burke but was recently popularized by actress Alyssa Milano when she asked people to come forward about their experiences with sexual assault or harassment after allegations against Hollywood director Harvey Weinstein (CNN). This has certainly changed people's perception of Hollywood and has given other people the courage to tell their stories. For these reasons, these so-called "Silence Breakers" were selected to be Time's Person of the Year. Person of the year is a title bestowed upon the person or occasionally group that has had the most influence in the last year. The cover shows singer Taylor Swift, actress Ashley Judd, former engineer at Uber Susan Fowler, lobbyist Adama Iwu, strawberry picker and immigrant Isabel Pascual (name changed) alongside an anonymous hospital worker (Time). They come from different walks of life, but they are unfortunately united through their experiences with sexual misconduct.
Me Too is a rallying call of solidarity among victims of harassment, assault, and rape. It has extended to other languages with #YoTambien,#BalanceTonPorc, and #Ana_kaman among others. This global phenomenon was started by Ashley Judd's accusation against Harvey Weinstein. That has led to a domino effect. For years, people in Hollywood and other groups did not come forward with their stories for fear of not be believing or suffering negative impacts on their careers. Sexual harassment, assault, and rape allegations were brushed under the rug in favor of protecting the accused rather than the accuser. Time's article states, "These silence breakers have started a revolution of refusal, gathering strength by the day, and in the past two months alone, their collective anger has spurred immediate and shocking results." The silence breakers have found the courage to expose those who have wronged them and in some cases, they are being believed. Many high-up people in their industries have lost their power: Matt Lauer, Kevin Spacey, and Uber's former CEO Travis Kalanick among many others.
Time's article features both men and women who have been victims of sexual misconduct in and out of the workplace some of whom remained anonymous. "It helps a lot of people individually, I think, and it also will help us to mark publicly that this is a widespread occurrence, and it's not OK," said Lisa Huebner, a professor of women's and gender studies at West Chester University (NPR). This movement is not just about Hollywood, it is about all the experiences men and women deal with on a daily basis. This has allowed survivors to feel comfortable sharing their story and has brought attention to the issue regarding how we view victims and how we deal with these problems in our society.
These stories are having real-world impacts. Long-time abusers are finally being taken down from their thrones. Women in the media industry and Hollywood have come forward about the so-called "whisper systems" in their jobs (The New Yorker). These systems are the way that they warn each other about men known for sexual misconduct. The people spoken about in the networks are finally being brought to light. They are losing their jobs and being scorned. Companies are encouraging anti-sexual harassment training. There has been a distinct shift in how victims are treated, but we still have a long way to go.
The prominence of #MeToo shows just how widespread the problems are. We must change how we deal with sexual misconduct. It is not appropriate under any circumstance. Everyone deserves to feel safe and be respected.