Gotta Fix Fast
Sonic's New Design Gives Hope to Fans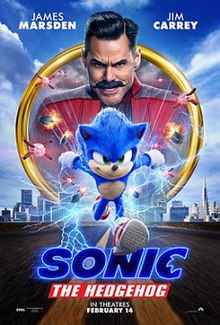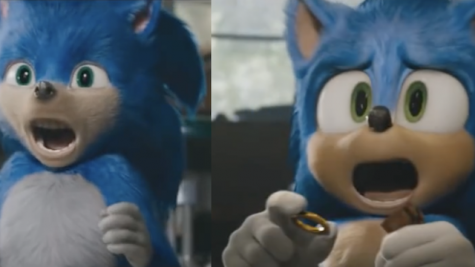 Paramount Pictures and Sega of America have recently released a new trailer for the Sonic The Hedgehog Movie. The new trailer released on November 12,shows Sonic's new redesign, which was pushed for by fans across the globe. The studio worked hard over the last few months to fix their mistake. 
Upon seeing the old trailer back in April earlier this year, fans were shocked and disappointed in Paramounts original interpretation of the blue blur. The previous design gave sonic human-looking teeth and a lanky, muscular body. Backlash from fans pushed the studio to completely redesign Sonic. This pushed the original release date of the film from November 8, 2019 to February 14, 2020.
"Sonic the Hedgehog returns to haunt me. He has a mouth full of human teeth. He will be the last face I see before I die," tweeted one of many unhappy fans before the release of the new redesign.
Now, with the human-proportioned body Sonic sported in the original trailer gone, the new trailer features a friendlier-eyed Sonic that better resembles the iconic video game character. Sonic now has more familiar proportions, larger eyes, a rounder face, and aless human-like mouth with less teeth.
"Absolutely in love with the new design. Thank you! If only more creators actually listened and cared when fans wanted an authentic creation of their favorite characters," said Gilgamesh, a Twitter user, when responding to the newly dropped trailer.
Along with the new redesign, some other changes have been made to the film as well. The trailer's theme was changed from "Gangster's Paradise" to "Blitzkrieg Bop"; the reason behind the song change is unknown, but it does sound better, according to other fans posting on Twitter. According to CNN Entertainment, actor Jim Carrey is still playing the part of Dr. Robotnik, although the voice of Sonic was passed to Ben Schwartz. 
Seeing that many video game based movies in the past, like Super Mario Bros, went down the drain into the categories many people wish to forget, there are still some people that are doubtful about the quality of the film. But given recent changes made to the film and the success of Detective Piccachu, The Sonic movie may prove to be a success when it's released within the next 3 months.