Theme Park Phenotypes
The Types of Rides Offered at Kings Island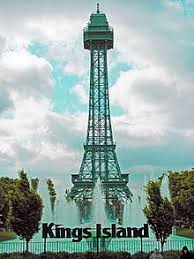 There are many things that make up the feeling of a theme park, but the type of rides are most important. From family rides to thrill rides, that's what makes a theme park so popular.
First, there is the classic roller coaster, and Kings Island has quite a few. They have classic rides such as The Beast, and The Diamondback. With the amount of rides they have, Kings Island offers different thrills for different folks. According to Kings Island, The Diamondback is a coaster that stands at 230 feet tall. With speeds up to 80 miles per hour and 5,282 feet of track, this is a ride for lovers of a good thrill.The ride is not only fast, but it also has 215 feet drop. The Beast is a wooden roller coaster that sprawls over 35 acres of wooded terrain. With two drops-one being 141 feet and the other being 135 feet-The Beast is ready to attack.
Theme parks also has what are called "dark rides." There is one at Kings Island: Flight of Fear. According to RCBB, it is a fast dark ride. The ride is another style of roller coaster but indoors. It goes from 0 to 54 miles per hour using a magnetic launch system. With four trains and five cars per train, this is a fast and exhilarating ride inside and in the dark.
Another style of coaster is the drop ride, and at Kings Island, that would be Drop Zone. According to Ultimate Roller Coaster, with a max seat space of 40 people, this ride will send riders 264 feet into the air. There is a pause, and then after a moment, riders drop and get to a max speed of 67 miles per hour.
Next is the swing ride and at Kings Island, that's Vikings fury. According to KICentrial, the ride, when at it's full height, is 82 feet tall. The ride sits up to 77 people for each ride and is able to get 1200 people per hour.
There are family rides like Boo Blasters on Boo Hill for small children. According to Fandom, this ride is a interactive dark ride where guests have to shoot ghosts as they travel through the manor. However, this ride wasn't always called by this name. Back in 2006, it went by the name "Scooby-Doo and The Haunted Castle." Where Scooby and the Gang would show up as you helped them deal with the monsters and ghosts.
According to Visit Kings Island, the park will open on April 11 for the 2020 year. Kings Island is a fun way to spend a summer day; from thrill to family fun, its all at Kings Island.