Fast Passes Now At Disney World
Fast Pass is Being Replaced With Genie Plus
When Disney reopened after the COVID 19 pandemic, Fast Pass – a way to skip wait lines at Disney parks – was gone. On October 19, the new manner of Fast Pass, Lightning Lane, premiered. 
According to WDWinfo, built into the My Disney app was Fast Pass: an app where guests who were currently staying on site would be able to make a reservation, up to sixty days before their trip, for rides to skip ahead in line; guests not staying onsite could reserve a Fast Pass up to thirty days before their visit to the parks. But the problem with this was it favored resort stays more than local stays, because those staying at the Disney resorts could have a better chance to get a Fast Pass on bigger rides like Space Mountain, Rock N Roller Coaster, and Flight of Passage. This resulted in Floridians -who most likely would make a day trip to the parks instead of an overnight trip – having less of an opportunity to ride these big rides, due to onsite guests having first-choice in ride times by using the Fast Pass before they arrive at the parks. But Genie Plus will take this away. 
Genie is the new way to schedule your days at the Disney parks; the app will allow guests to plan their ride schedule by providing wait times for the bigger rides. If you are at Disney for the thrills, entertainment, or food, the new app will help plan a route for you to take. This will be an updated version of the My Disney Experience app, which will make things sleek and easier, according to TechCrunch.
According to Disneytouristblog, the Lighting Lane will be able to be purchased, which will give the rider the ability to skip lines. The other side of this is Genie Plus, which will give the guest the ability to purchase fast access per ride. This will make the price for a ride go up throughout the length of the day. For example, the Space Mountain ride may cost seven dollars in the morning; however, if you want to go again later in the day, it might be twelve dollars, based on the number of people in the park. The number of people and time will factor in for the Genie Plus price, making rides cost more during peak hours. This will make a ride pay to win: those who are willing to pay have a greater chance of "winning" the chance to ride.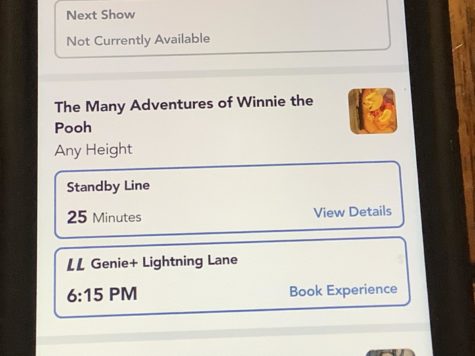 New changes will bring new challenges for old guests. This will be a big change with the 50th birthday of the parks being celebrated this year.