Spotify VS. Apple
Spotify Is Now Going To war With Apple Over A New Feature Of Adding Audiobooks To Its App But Apples Got In The Way After Rejecting The New Feature.
The companies Spotify and Apple have been at war for some time, but lately, the war has intensified with Apple and its new rules hurting Spotify's case. Apple's role as a make or break arbiter has frustrated app creators with all of their rules. Spotify also being a big music streaming app hurts Apple Music which is very big competition for Apple music. That being said, Apple Music doesn't want Spotify to get in the way of its business and its features in their app.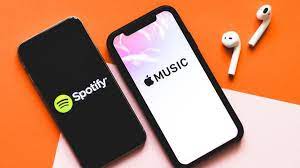 Image from :
The new feature that Spotify has added is audiobooks, but if they do want that new feature, they will have to give Apple a 30% cut of its business. "Spotify simply refuses to fork over the whopping 30% cut of its business to Apple" says CNN.com.This is all because Apple has the same feature in their own app, and the app creation rules have caused many feuds over all the years. Over this past month, Apple and the App Store gatekeeper have rejected Spotify's new feature a total of three times. "The rejections are the latest skirmish in a long-running battle between Spotify and Apple." says nytimes.com. Many of the users of both Apple and Spotify aren't really aware of the back and forth war the companies have been having.
Spotify really wants Apple to be seen for its petty nature and "true colors" in a way. This new feature would be appealing to book readers and encourage make them to want to subscribe to Spotify and Apple seems to feel that this will take away from their business. "But they were all ultimately rejected after undergoing reviews for the App Store, forcing the company to essentially abandon offering its customers an avenue for audiobook purchases in its iOS app." says CNN.com. But sadly, Spotify and its new feature will never make it out to be anything but a dream the Spotify team had for its growing business.