Rihanna's Super Bowl Surprise
While Performing At The Super Bowl During Halftime, Rihanna Appeared To Have A Pregnancy Bump While In Her Red Outfit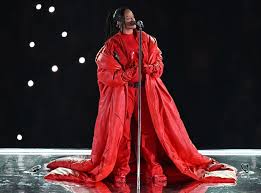 The Super Bowl was on Sunday February, 12th, 2023 in Glendale Arizona. Halfway through the football game halftime came around and as promised Rihanna appeared and put on a show for everyone with her halftime performance. She performed lots of her hit songs like "Where have you been" and "Only Girl (In The World)". While performing she was wearing an all red from head to toe outfit with a makeup look and nails to match. "I am speaking, of course, of Rihanna's Super Bowl halftime show, a 13-minute extravaganza of crimson and a pregnancy reveal in the form of workwear, puffers and a breastplate that will probably set maternity trends for the next decade." says Vanessa Friedman February, 13th, 2023 nytimes.com.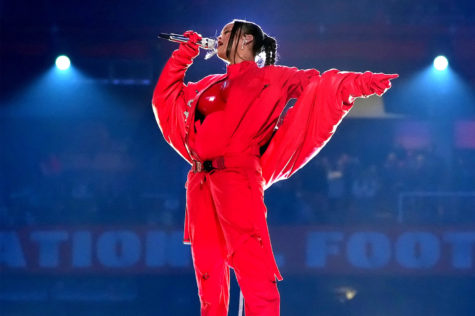 This outfit caught the eye of many viewers after seeing a pregnancy bump while she was performing in this outfit. Many didn't know what to think and immediately went on the internet and everything went wild. Rihanna and her sudden pregnancy reveal started spreading like wildfire everywhere and everyone was asking questions. "Rihanna's dad told TMZ he didn't know the star was pregnant until the Super Bowl halftime show." says Anna Medaris February 20, 2023 insider.com.
It was a big shock to everyone around her, finding out about her pregnancy. But from many interviews Rihanna  kept giving hints about her pregnancy but no one really got them until after the performance. "The singer spoke about motherhood during an interview as she prepared for her halftime show performance, saying becoming a mother made her feel like she can do anything." says Kelly McClearly February 13, 2023 CNN.com.
Rihanna has once again made an impact on fashion itself, but now made an impact on the maternity fashion area. While also showing how truly strong she is by being pregnant and performing on stage for quite awhile and her pregnancy did not slow her down from giving a great performance. Her main motivation to do this whole performance was representation and the thought of her son seeing his mom perform.