The Ferguson Effect
Alexandria Montgomery explores the effects of Ferguson, as seen 433 days later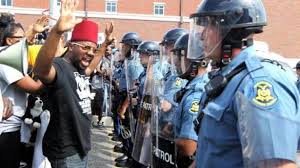 On August 9, 2014, one word kept showing up on our feeds and timelines: Ferguson. What was it and why was it everywhere? Oh, it's a place. Not a thing. Okay. Someone had died there. No, not just someone. A black, unarmed someone. Despite the details being murky, it was clear that a deep injustice had occurred. Then the photo began to spread. What we would later learn to be Michael Brown, 18, laying dead on Canfield Drive. We couldn't believe it. Was this real? Apparently so. What followed was a horror that began in the gut and still hasn't completely left. Junior Tori Washington recalled the news and her feeling after: "I was really confused because all of the facts hadn't been released, but I just remember being so afraid. Afraid for my brother, afraid of what my white family would think, and afraid for my father… it was like a physical pain that I can't really describe because [it made me realize] that nobody really cares about us."
In the months that followed, the nation watched with awe and anger as protests erupted in Ferguson and surrounding areas. A huge outcry of responses similar to Washington's circulated on social media. Everyone, especially young blacks, was disgusted with the ways news outlets covered the situation. As protests gained immense media attention, the narrative shifted from providing facts to providing speculation. We, as a generation of awakening black people, felt as if our story was being snatched from us. As a result, young people began running their own dialogues on social media. Faulty narratives and subtle racist behaviors in the media became the subject of scrutiny.
Zendaya Coleman, a black actress, sported faux locs at the Oscars in February. During the following episode of Fashion Police, Giuliana Rancic made a statement saying Zendaya's locs "look like they smell weed and patchouli oil," while similar media outlets praised Kylie Jenner, a white TV personality, for 'rocking' the same style. The disparity in narratives covering the same style on two different races of women sparked media conversation: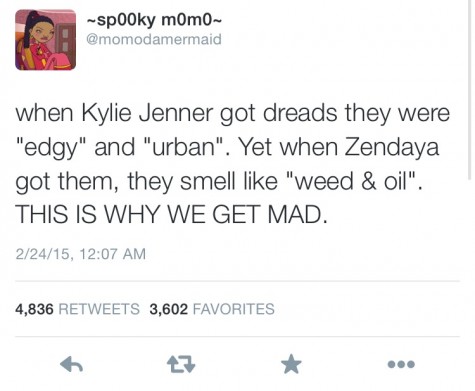 The above tweet was sent by Twitter user @momodamermaid in a series of tweets discussing the racial bias in media coverage.
Powerful hashtags such as #HandsUpDontShoot, #AliveWhileBlack, and #IfTheyGunnedMeDown bought many Americans to a higher sensitivity to what was happening. Senior Jaylin Paschal commented on the importance of these platforms: "It's important for young people who can't do more than tweet about their feelings and the injustice to have this voice Twitter gives them." And in the past year, the platform has undoubtedly been maximized and young black voices have definitely been heard. The collective conversation surrounding the painful aspects of black life has become what is now known to many as 'Black Twitter'.
Black Twitter is like the trading post for the exchange of ideas, projects, and media specific to blackness. While there is no specific route to this corner of Twitter, people of all identities who share an intersection at blackness convene under hashtags such as #AskRachel – which erupted after the controversy surrounding Rachel Dolezal – and #CookoutNewsNetwork, a hashtag where black people of all types share the experiences common to all cookouts – which are an integral part of black culture.
The orb of Black Twitter's influence expands beyond the polarity of the lightness of culture and the heaviness of police brutality. #BlackOutDay, for instance, occurs the first Friday of every month. Participants post selfies under the hashtag and the rest of the community shares the photo. The movement began in February as a way to celebrate black bodies – and received mainstream media coverage.

In spite of all the consciousness raising efforts, people still seem to be asking, "Now what?". It is clear there is a widespread call to action, but what we are being called to is unclear. People–black, white, and otherwise–acknowledge there is an issue much deeper than we initially thought. A desire for a radical, strategic change is growing. How that change will be achieved, we are still unsure.
What do you think it is, Northmont?