The Joker
A Blockbuster Origin Film For an Iconic Villain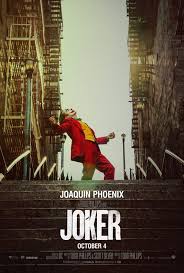 Releasing on Friday October 4, "The Joker" has been one of 2019's most anticipated films of the year. Currently, the reviews on IMDB (https://www.imdb.com) are near perfect, sitting at a 9/10.
Since the movie was announced in early 2018, film and comic fans around the world expressed their excitement. Social media debates were sparked on who was fit to lead the new role, many were wishing to see long-time famous actor Leonardo DiCaprio star in the movie. After months of script re-writes and casting, it was announced that Oscar award winning actor Joaquin Phoenix would play the notorious clown.
Phoenix is most commonly known for his iconic portrayals of Johnny Cash and Jesus Christ, both stand alone roles won Phoenix an Oscar for both movies. This is a big factor as to why fans are excited to see how Phoenix does in his impersonation of a character who has multiple dark traits.
The premise of the movie is the point that one bad day can drive someone to mental insanity. This film shows heavy influence from a film called "The King of Comedy" which stars Robert De Niro. This film that was released in 1982 has a very similar storyline to it as "The Joker". A failed comedian can't seem to catch a break in life and is eventually driven to madness. The Joker even has De Niro casted as a talk show host in the film. The similarities in the two films have fans interested to see the more sinister route that the Joker movie looks to take.
The goal of this film is to provide a dark backstory for the character and to show how he became who he is. Todd Phillips, the director, Scott Silver, the screenwriter, and Phoenix were all in mutual agreements about one thing in this film; that this would be a one and done without any chances of a sequel.
With the film's recent success, it has earned them reviews calling the movie genius and unforgettable (https://observer.com). Making approximately making $97,000,000 globally, "The Joker" continues to increase its income.