Locke and Key Season Two
Locke and Key Season Two October 22,2021. New Secrets To Be Reviled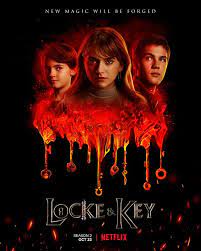 With Halloween around the corner, a lot of supernatural shows are already on Netflix and more are yet to come. Within that genre, "Locke and Key" will get its second season after an insane season one finale, and it releases on October 22, 2021. 
Spoilers for season one ahead. According to Fandom, "Locke and Key" is based on a comics series of the same name by Joe Hill and Gabriel Rodriguez. In Season one of the show, we are introduced to the Lockes: Nina Locke, a single after her husband Rendell Locke is shot and killed by Sam Lesser, and her three children. After her husband's death, Nina and her children, Kinsey, Bode, and Tyler Locke, move into the house that her husband, Rendell, grew up in. Soon after moving in, the kids start finding keys that give them special abilities. When Bode finds the Echo key, he frees the show's antagonist, Dodge, who proves to have some wicked evil plans for the Lockes and their keys… and a game of 'hot potato' over ownership of the keys ensues. In the season finale, Dodge is believed by the kids to be dead, when, in actuality, she is disguised as one of their friends, Gabe, with the help of the Identity key. After the 'hot potato' exchange of keys during season one, where are each of the keys at the start of season two?
According to CBR, at the end of season one of "Locke and Key," Dodge has several keys. These keys include the Anywhere Key, Mirror Key, Music Box Key, Plant Key, Identity Key, and Crown of Shadows Key. While the Lockes have the Head Key, Matchstick Key, Omega Key, and Ghost Key. Additionally, the Lockes also have the Mending Key, because it is still in its cabinet. 
The official trailer, provided by Netflixes YouTube, is included above to give you a sneak peek into season two.
According to Collider, the second season starts with the threat of Dodge now hiding in plain sight as Gabe and acting as a love interest to Kinsey Locke. This could lead to the separation of the show's most powerful objects, the keys, right into enemy hands. Also, we see the forging of a new key by Gabe. Unfortunately, the trailer does not give us any hint as to what key this could be. One of the lines in the trailer is this, "The Keys, they can bring about the greatest good or the darkest evils." This could be hinting that, since Gabe made it, the key will be evil and powerful. It also foreshadows new monsters being unleashed into the world.
Season two released October 22, 2021, with new threats and keys to be found.