NBA Youngboy Celebrity Profile
Details into the Life of NBA YoungBoy
Kentrell Desean Gaulden, AKA NBA(Never Broke Again) Youngboy. He was born in Baton Rouge Lousisiana, on October 20th, 1999, to mother Sherhonda Gaulden. Since he was young his father had been serving a 55-year prison sentence, he was raised by his maternal grandmother.
NBA Youngboy had started making music when he was just 14 years old. He had recently dropped out of high school, and told his mother he wanted to focus on his music career. Recently after he was arrested for robbery and sent to a detention center in Tallulah, Louisiana.
From the detention center he began writing his lyrics for his debut project. He released his first mixtape in 2015, and it was titled "Life Before Fame." After he released that a string of other mixtapes were released. Youngboy picked up real traction when he release "38 Baby" in 2016 it featured fellow Baton Rouge rappers such as: Boosie Badazz, Kevin Gates, and NBA 3Three. He rose to fame quickly shortly after most likely due to his "rap beef" between him and the the Baton Rouge rapper Scotty Cain.
In December of 2016, in Austin, Texas he was arrested on suspicion of attempted first-degree murder in connection with an alleged drive-by shooting. While in jail he released two mixtapes "Before I go: Reloaded" and "Mind of a Menance 3: Reloaded." Youngboy was released from prison in May 2017 after taking a plea deal and posting bail.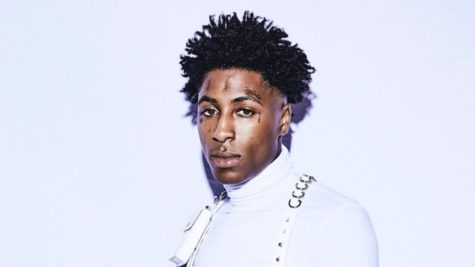 While Youngboy was performing is early 2019 he announced his debut studio album "Until Death Call My Name." After signing a joint venture deal with Atlanta Records back in January 2018. He also released "Outside Today" January 6th, 2018. Shortly after this became his highest charting song, reaching number 31 on the Billboard Hot 100. He then got arrested again in February 2018, but still promised fans another mixtape even though he was in jail.
From September 2019, he has been serving a 14-month-long house arrest sentence, following a probation violation earlier in the year. While under house arrest he released the single "House Arrest Tingz." From then on he released a few more mix tapes with "AI YoungBoy 2" making number-one album on the Billboard Hot 100. He released a few charting singles after that.
Whilst being in and out of jail and releasing music, NBA Youngboy has 10 children with 9 different baby mommas. NBA Youngboy recently got married to his longtime girlfriend Jazlyn Michelle Hayes. Their marriage license from the Utah County Clerk surfaced on social media Friday January 6th, of early 2023.