"DECAcated"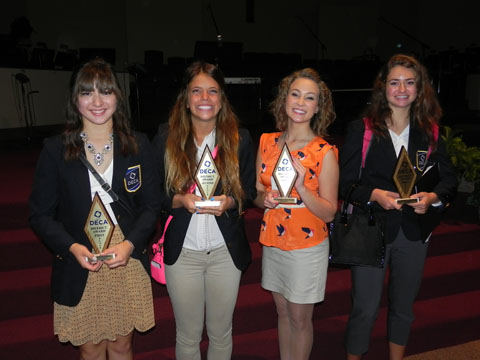 Last week, on October 16th, thirty-five students in Northmont's DECA chapter competed at the District 4 Fall Conference. Twenty-four Northmont students placed and four students were successful in events that qualified them for the state competition in the fall: senior Kirsten Pullins, senior Caitlin Cuesta, junior Courtney Eilerman, and sophomore Mary Yagisawa.
While preparing for the DECA conference, the girls had mixed emotions.
"Going into districts I was a little anxious, but in a good way," said Cuesta.
Each of them worked extremely hard and spent weeks preparing for the conference. Preparation for State will be even more intense, as the students spend even more time practicing and perfecting their events.
Along with winning State, the girls have big plans and goals involving the Northmont DECA chapter.
"[My goals are to] win first for Public Relations at State and be the PR representative for the year, also I want to win first at State in the spring for Financial Literacy and go on to place at Nationals," said Pullins.
"My goals for DECA this year is to make it to nationals again! If I make Public Relations officer then I have a guaranteed spot, so I'm very motivated to work hard and hopefully I can achieve my goal," said Cuesta.
Another successful Northmont DECA student is senior JT Mackay. Mackay not only placed in the Public Speaking event at Districts, but is also running for Ohio DECA office with hopes of claiming the Secreatary/Treasurer title.
"I wanted to give back to the organization that gave me so much," said Mackay.
As a candidate, Mackay is a strong competitor and will be tough to beat because of his leadership and problem-solving skills.
"I feel like my ability to overcome obstacles and stay dedicated to a course will be beneficial to a course," said Mackay.
He has already begun to campaign with the entire Northmont chapter behind him, helping in every way possible. The election will take place  November 18 in Columbus, Ohio.
"#DECAcated" is this year's Ohio DECA theme, and it's obvious that the Northmont chapter is true to that. Pullins, Cuesta, Eilerman, Yagisawa, and Mackay have all made Northmont proud, and will continue to do so. When you see these dedicated students in the hall, be sure to congratulate them on their success in the fall and wish them luck when the state conference approaches.