Veterans Day – NFL – Thank You
Be Proud To Be An American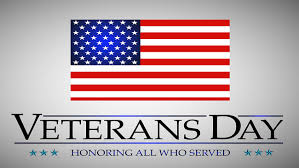 November 11th. We celebrate Veterans Day. Veterans Day is a day specialized for our military. This past Sunday, The NFL's weekly games landed on Veterans Day, and with every tweet with #SaluteToService, they donated $25 to their Military Partners. The NFL has raised around $2 million to send over to their respective partners.
Veterans Day was originally about ending World War I. This upcoming year, will be 100 years since WWI. The original name for Veterans Day was "Armistice Day". Great Britain, France, Australia and Canada also commemorate the veterans of  WWI and WWII on or near November 11th: Canada has Remembrance Day, while Britain has Remembrance Sunday (the second Sunday of November).
Many veterans suffer from PTSD, Post Traumatic Stress Disorder, and may suffer from depression due to the amount of time they've missed to spend time with their family. They sacrifice so much for our rights and freedom; it's honestly surprising how much credit we don't give them for their sacrifices.
Veterans and their loved ones can call, chat online, or send a text message to 838255 (Veterans Crisis Line) to receive confidential support 24 hours a day, 7 days a week, 365 days a year if they ever feel being suicidal from the stress they have from their past. Involvement in combat that causes losses and fears; injuries associated with combat; repeated deployments and/or relocations; and military sexual violence—all may exert an emotional toll on military personnel, their families, and their communities as well. Also in the United States, about 10% of homeless people are veterans. Among this group, three out of four experience mental and/or substance use disorders. About one fifth of veterans in substance use treatment were homeless.
The NFL has set a good example for us to follow all year long. So thank your veterans, every year, not just on 4th of July, or on Veterans Day. But do it everyday, give them a honk, a handshake, or just a simple thank you. It means a lot more than you think.