The Race to Space Tourism
Space Tourism Company Launches its First Successful Test Launch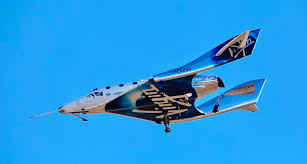 On Thursday, December 13, Virgin Galactic became the first American space tourism company to reach the edge of space.
Virgin Galactic had been aiming to reach this goal since its start in 2004. According to Forbes, "Though more test flights remain, the company looks on track to carry its first paying customers into suborbital space in 2019."
The customers on these ventures will be the first American space tourists, and tickets have been selling at $250,000. The program is focused on safety and exploration, as its first test flight in 2014 ended with a destroyed spacecraft and a killed pilot.
According to Space, "Today's successful suborbital flight by SpaceShipTwo marks a major milestone for Virgin Galactic, as they take a step closer towards regular commercial launch operations," Taber MacCallum, chairman of the organization said in a Dec. 13 statement.
Many are praising Virgin Galactic for the success of its launch and are anxiously awaiting progress and more information.