Kincade Fire Mostly Contained
California's Most Recent Wildfire Begins to Die Down
At 9:24 P.M. on October 23, 2019, a fire was reported northeast of Geyserville in The Geysers in Sonoma County, California. According to CBS News, the Kincade Fire has burned 77,758 acres of land, and it is 78% contained as of November 4. The cause of the fire is currently unknown and under investigation.
According to The Washington Post, at least 266 buildings have been destroyed, 133 of them are homes. The fire has been active for eight days, and according to the California Department of Forestry & Fire Protection, the fire started at John Kincade Road and Burned Mountain Road, northeast of Geyserville. The department stated, "Fire personnel made good progress in their fire fighting efforts overnight due to favorable weather conditions. Access to the northern part of the fire remains challenging because of steep terrain and narrow roads, but firefighters will continue to build on the progress they made today with even more control lines being established." According to the department, there have been four injuries reported caused by the fire, 105 crews assigned to control the fire, and 27 helicopters sent out to aid in putting out the fire. 
Sonoma county's local businesses have been devastated by the fire. One of the 266 buildings decimated by the Kincade Fire is Healdsburg's historic Soda Rock Winery, shocking the company. "We've seen the news. We are devastated," the winery posted on Facebook on October 27.
According to the Los Angeles Times, there have been three earth quakes since October 23, all three occurring in the northern area of the Kincade burn zone near Geysers geothermal plant. The first earth quake was a magnitude 4.2 on October 20, the second was a magnitude 3.7 on Oct. 23, and the third was a magnitude 3.1 earthquake on October 28.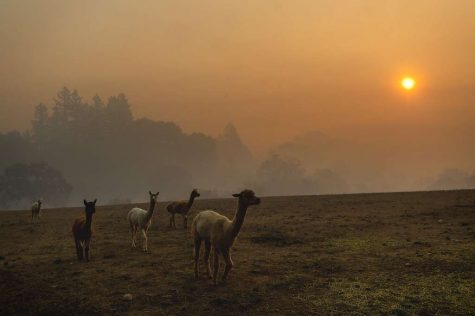 On November 3, President Trump criticized the Governor of California, Gavin Newsom, stating, "[Gavin Newsom] has done a terrible job of forest management. I told him from the first day we met that he must "clean" his forest floors regardless of what his bosses, the environmentalists, DEMAND of him, every year, as the fire's rage & California burns, it is the same thing-and then he comes to the Federal Government for financial help. No more. Get your act together Governor. You don't see close to the level of burn in other states…" It is known that President Trump disagrees with California's governor, particularly on environmental regulation issues. Newsom responded to the President on Twitter saying, "You don't believe in climate change. You are excused from this conversation."
Governor Newsom later made a statement to The Washington Post defending his administration's management of California's fires. "We're successfully waging war against thousands of fires started across the state in the last few weeks due to extreme weather created by climate change while Trump is conducting a full on assault against the antidotes," said Newsom. Trump's tweets are seemingly redundant of his past remarks on California's wildfires. In January, he threatened to cut off Federal Emergency aid to California (The Washington Post), and last November he spoke with the president of Finland about forest management (The Guardian), stating, "I was with the president of Finland and he said, 'We have, much different, we are a forest nation.' He called it a forest nation. And they spend a lot of time on raking and cleaning and doing things, and they don't have any problem."
Despise the President's attack on Governor Newsom, he provided positive feedback on the Trump administration's response to the recent wildfires: "I have nothing but good things to say about the federal government's support," Newsom said, according to the Los Angeles Times. "In fact, the Homeland Security acting director proactively called me two days ago to check in. Hats off to them."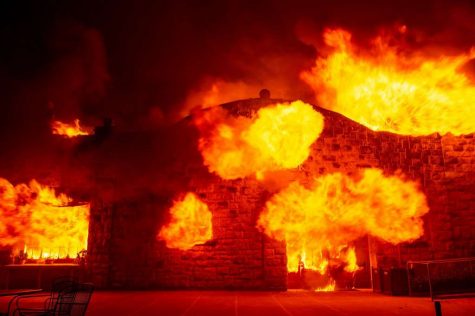 More than  72% of California's wildfires have been contained, but responders still have tens of thousands of acres to neutralize as of November 2, according to the California Department of Forestry and Fire Protection.