Nike Oregon Project Under Fire
Mary Cain Alleges Abuse Under Alberto Salazar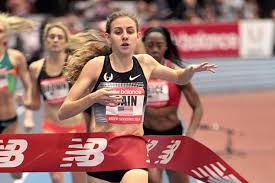 On November 7, 2019, Mary Cain, a former Olympic hopeful in distance running, spoke out about emotional and physical abuse she faced while under Nike Oregon Project (NOP). These allegations come shortly after a ban that was placed on the coach of NOP, Alberto Salazar, for violating doping regulations.
According to the New York Times, during high school, Cain was an exceptional talent in distance running. She went on to break junior world records and earn a spot on NOP during her first year of college. Once she joined the program, Salazar told her that she needed to lose weight to get faster. He told her that she must reach the weight of 114 pounds. According to Cain, Salazar would verbally abuse her if he felt like she was gaining weight. Cain recalls a particular meet where Salazar yelled at her in front of the other athletes for gaining 5 pounds. Cain states that she was expected to take birth control pills to lose weight. This practice is illegal in professional track and field.
The abuse led to her physical and mental state wearing down. Cain lost her menstrual period for three years and was at risk for Relative Energy Deficiency in Sports Syndrome (RED-S Syndrome). According to UWHealth, RED-S Syndrome can lead to lower bone mineral density. Cain states that she broke five different bones during her time at NOP. 
Cain began developing suicidal thoughts and started cutting herself during her time at NOP. She states that there were no certified sport psychologists on the NOP management team. When she told Salazar, he dismissed her completely. 
Since the allegations were released, multiple athletes have defended Cain. According to Sports Illustrated, Cam Levins, a marathoner that previously trained with NOP and Salazar, states that the NOP coaches were "obsessed with Cain's weight." He also apologized for not speaking up on the issue earlier. Dathan Ritzenhein, another NOP athlete that trained with Salazar, recalls when Cain asked him for nutrition bars and ate them in secret. 
Cain hopes for her story to shed light on issues in distance running. She claims that the expectation of young women to be as light as possible is destoying their bodies and the sport as a whole. She hopes for more female coaches and staff members to end this toxic cycle.
According to Runner's World, Nike shut down the NOP team completely in early October. Salazar's ban will last for four years following his doping scandal. The NOP team is currently under investigation following Cain's claims.