Thermal Breast Cancer Find
A New Study Shows Thermology is Not The Best Way to Find Breast Cancer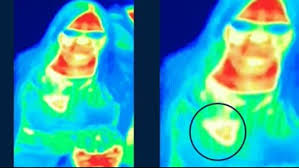 Bal Gill, 40, was touring through Scotland when a tourist attraction, a new thermal camera, spotted something unusual. It was a little red spot on her left breast. She then scheduled a doctor's appointment to find out what it meant. 
The doctor then confirmed that it was breast cancer. According to (WEBMD) Gill says "as it turns out, I do have breast cancer, thankfully really early stages.
Although Gill was lucky, thermal imaging is not the best way to find breast cancer, the FDA says that a mammogram is a better source to finding breast cancer. "Studies repeatedly show mammography is the most effective screening method for the early detection of breast cancer. And early detection of breast cancer saves the most lives," says Paulette Turk, MD, a breast radiologist from Cleveland Clinic.
Thermology has been available for decades, but there is no evidence that it is a good tool to use to find breast cancer.
The FDA claims, "There is no valid scientific data to demonstrate that thermography devices, when used on their own or with another diagnostic test, are an effective screening tool for any medical condition including the early detection of breast cancer or other diseases and health conditions." 
Mammograms are more efficient than thermology because thermology uses a type of temperature technology that will detect and record any temperature or changes of temperature on the surface of the skin. Thermology can detect a change in your body but it can not detect cancer itself. 
A mammogram is a type if x-ray, where a machine presses the breast between two metal plates and takes an x-ray picture. The images show any changes in your breast tissue that could possibly be damaging. 
Michel Gautherie PhD. and Charles M. Gros MD. claim "From approximately 58,000 patients, most of whom had breast complaints, examined between August 1965 and June 1977, the conditions of a group of 1,245 women were diagnosed at initial examination as either normal or benign disease by conventional means, including physical examination, mammography, ultrasonography, and fine needle aspiration or biopsy, when indicated, but nevertheless categorized as stage Th 111 indicating a questionable thermal anomaly."