Worlds Deepest Pool Opens
The World's Deepest Pool has Opened in Poland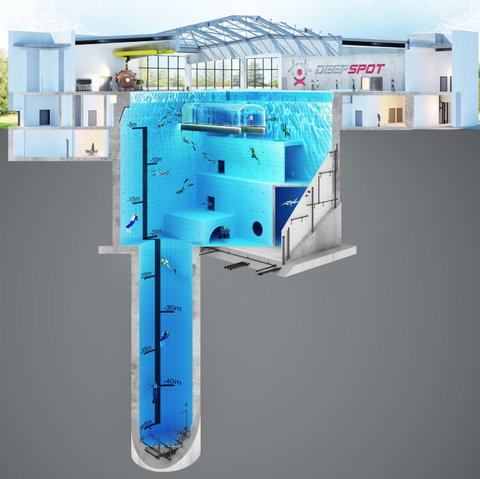 Scuba divers can now plunge into a brand new depth without having to rely on ocean training thanks to a first of a kind multi-million dollar facility that has just opened in Poland.
With a depth of around 148 feet (or over 45 meters),
Deepspot
has claimed to be the newest "world's deepest swimming pool," containing 10,464 cubic yards of water — more than 20 times the amount as a 27-yard pool.
Deepspot was built in the town of Mszczonow – less than 30 miles from Warsaw – and is intended to provide a training and practice site for divers new or experienced. The construction process took over two years to complete, and cost nearly $10.6 million to build.
The pool is fitted with a simulated "blue hole" running down to its deepest point, and even contains artificial underwater caves and Mayan ruins for divers to explore, a small shipwreck, and even an underwater tunnel for anyone who wants to spectate.
Although it was primarily aimed at scuba divers, director Michal Braszczynski told AFP that their facility may also be used as a training site for firefighters and their armed forces.