Artistic Talent Showcased In Dash Of The Pen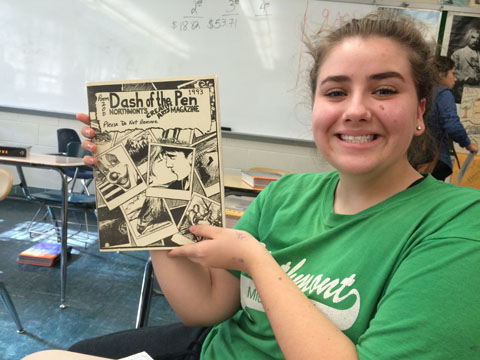 Dash of the Pen is Northmont's creative arts magazine. It is published annually and includes original artwork from Northmont students. The magazine is a showcase for the artistic talent within Northmont.
Language arts teacher Mr. Dan Landis helped start Dash of the Pen twenty-five years ago. Language arts teachers Mr. Jake Whetstone and Mrs. Juliette Schmalhofer are the current advisors.
Dash of the Pen features poetry, short stories, photography, music, paintings and drawings. Students may submit their work to the magazine in folders labeled Dash of the Pen, which are posted in language arts and art classrooms. Be sure to include your name and grade, that way editors can contact you if necessary. If you would rather not have your name published along with your work, you can submit anonymously.
The submitted work is then considered by the student editors, who work on the magazine throughout the school year. These editors work on everything from choosing the content to designing the layout.
Everyone is welcomed and encouraged to attend the Dash of the Pen meetings, which occur in room 110. Meeting dates are announced weekly. Be sure to submit your artwork soon if you'd like to be published in the 26th issue of Dash of the Pen.