Captain's Log
Drama Club Ends Season In Space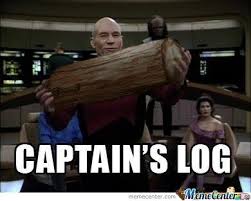 Drama Club is preparing their spring show, which will be the last performance of the 2016-2017 school year.
The spring show will be Captain's Log, a fictional adventure through space that follows First Officer Sally Ride as she battles an intergalactic conspiracy against a peace treaty and the incompetence of her captain. Northmont High School is the first to premiere the show.
The show is aimed at a science fiction audience, and includes many Star Trek references throughout the show.
Auditions were Wednesday, February 22, with the cast list going up on Thursday, February 23.
The cast list includes:
Senior Taylor Harmon as Sally (the first mate eager to prove herself no matter what it takes)
Senior Andrew Wirrig as Edward (the brash, bold, cocky captain who may not be a good as he thinks)
Sophomore Bailey Mescher as Quinarra (the alien ambassador that has caught Edward's eye)
Sophomore Trey Hopkins as Wyatt (a hapless red shirt whose only goal is to not die on the away mission)
Sophomore Micah Via as Piper (the ship's doctor who may not focus on besides manner, but is Sally's best friend)
Sophomore Alex Henderson as Linux (the ship's resident science office and robot)
Junior Maggie Salata as Mary-Anne (the ship's mechanic who loves machines and loves a certain machine a lot)
Freshman Steven Greenwalt as Kaden (the space pilot that may need to retake his license test)
Freshman Kellan Duffy as Drake (the navigator office that doesn't sat much but when he does it's meaningful)
Senior Jayci Lawson as Blanche (the ship's communications office that doesn't really communicate well)
Senior Allen Van Luvender as Admiral (a stern and harsh commander who has a keen interest in supporting Edward)
Sophomore Josh Thompson as H'Cor (an alien advisor to the Admiral that has been pushed around a lot)
Sophomore Eric Payne as Malcolm (the human ambassador that is determined to succeed in the mission)
Senior Kaleb Burns as Mollzax (King of the Lithorian aliens; quick to anger and to action)
Seniors Micah Harman and Kiani Hayes, sophomore Julian Newson, and freshman Tai Tran as Aliens/Door Operators
Freshmen Jeffrey Rucker and Kim Albright as Computer/ Understudies
The show will premiere Thursday, April 6 and go to Saturday, April 8. All showtimes are at 7:30 pm; doors will open at 7 pm.