The Stress of College Admissions
How Applying to College Affects Students' Mental Health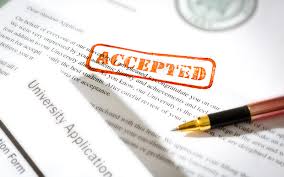 For seniors planning to go to college next year, the stress of admissions can be overwhelming. With most early admissions deadlines being November 1, now is the time to be reflecting on past achievements and using them to apply to colleges. But are the expectations of elite colleges hurting students? Are students putting themselves at risk for life-long mental health issues?
Elite colleges, such as Ivy League universities, say they are looking for an overall well-rounded student. This student has excellent grades, is involved in clubs and sports, and is involved in their community. Not only do these colleges look to see if a student checks all these boxes, they look for candidates that are exceptional in all of these fields. This can lead to students struggling to juggle all these activities. With all this pressure, students might also neglect basic needs, like sleep and healthy eating. Many students fail to get a full eight hours of sleep. According to Medical News, this can lead to fatigue, trouble focusing, depression, forgetfulness, and more. This lack of attention on physical and mental health can lead to bad habits and health conditions in the future. 
One obvious category that elite universities evaluate is grades. While GPA has always played a role in getting into school, some changes have made it even more difficult to get ahead. Weighted GPA is out of a 5 point scale instead of 4; it accounts for the difficulty of the classes as well as the grade earned. More and more universities are looking for students who are as close to a 5.0 as possible. This nearly unattainable goal can lead students to have high levels of stress and even anxiety disorders. This also encourages students to not participate in elective classes they might have an interest in because their weighted grade will drop. 
According to The U.S. Department of Health and Human Services, 31% percent of high school students have symptoms of depression and anxiety. Alarmingly, 17% of high school students report that they have seriously considered committing suicide. This trend doesn't just end in high school. According to the American Psychological Association, 41.6% of college students have symptoms of anxiety and 35.8% show symptoms of depression. According to the same survey, 24.5% of student clients of university psychologists are taking psychotropic medications (psychotropic medication: drugs that affect a person's mental state). The stress of college admissions and the weight of expectations on students might be causing these alarming statistics. 
To all students currently applying to colleges or working toward an elite college, take care of yourself and your mental health. Your health and happiness are more important than any acceptance letter or degree.