Roundhouse at Fieldhouse
Rivalry Game Heats up Late in the Second Half
A regular Tuesday night game between the Kansas Jayhawks and Kansas State ended in a huge fight that ventured deep into the crowd.
The game seemed to be over late in the second half, with five seconds left in the game, the Jayhawks led 81-59. While dribbling out the clock, Jayhawks big man, Silvio De Sousa, was stripped of the ball at half court by Kansas State guard DeJuan Gordon. This led De Sousa to deliver a gigantic block on Gordon down at the other end of the floor that left Gordon laying on the floor. De Sousa then started screaming at Gordon while standing over him. This made players on Kansas State come to Gordon's defense, making both benches empty out, starting to brawl.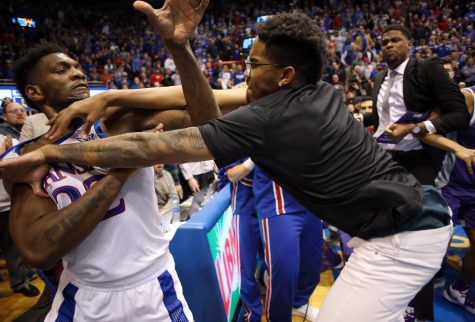 The fight went into the crowd and kept escalating from that point. With players on both teams now throwing punches, team managers and coaches began trying to break up the fight as it kept spilling deeper in the crowd. During the fight, players in and out of uniform were fighting, while more security and arena workers came over to try and break up the fight. During the melee, De Sousa picked up a stool over his head and was stopped from using it when an assistant coach grabbed it from behind his head.
The fight eventually calmed down with players on both teams getting escorted back into their locker rooms. After all the players had been taken back to the locker rooms, five players from each team had to come back out so Kansas State could shoot technical free throws, and the final 0.1 seconds of game could be played. The technical point was so forgotten about, the final point wasn't added to most box scores until the next day. According to ESPN, this made the final score 81-60.
 According to Cbs,  there were various suspensions handed out to players on both teams. They suspended Kansas State players James Love eight games and Antonio Gordon three games. They suspended Jayhawks' players David McCormack two games and De Sousa got the stiffest punishment with a twelve game suspension.