No Pardon for "Tiger King"
Joe Exotic failed to get a Pardon from Donald Trump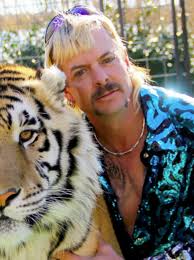 In the midst of the presidential pardons, one of the names missing is that of Joe Exotic. Otherwise known as the "Tiger King". His team was so sure that Joesph Allen Maldonado-Passage would get pardoned that they had rented a celebratory limousine and they also had a hair and wardrobe team. Dayton Daily News reports that Joe was not on the list that was announced in the morning of January 20. 
Mr. Maldonado-Passage was sentenced in January 2020 to 22 years in federal prison for violating federal wildlife laws. He was also charged for his role in the failed murder-for-hire plot that targeted Carole Baskin, the owner of Big Cat Rescue and Mr. Maldonado-Passage's largest rival. Baskins was not harmed. (Dayton Daily News) 
According to CBS News, Mr. Maldonado-Passage submitted a hand-written letter in September, calling President Trump his hero and asking Mr. Trump to review his case. 
According to the Washington Post, Mr. Maldonado-Passage's legal team was expecting a pardon from Former President Donald Trump to come in at around noon January 20; the president's last day in office. The pardon never came. Eric Love, the Texas philanthropist who had lobbied the pardon, released a statement.
"140 million Joe Exotic fans had a hard time getting out of bed this morning. We are disappointed that The President did not sign Joe's Pardon, as we were confident yesterday that he would. It is only because of you 140 million fans that Joe's Pardon was even a possibility. Since his trial, the evidence has made it clear that Joe is not guilty but, rather, he is a victim of the persons he trusted most." (Washington Post)