Georgia wins National Championship
The Bulldogs defeat the Crimson Tide to win National Championship
Alabama and Georgia both took care of their semi final games, with Alabama beating Cincinnati 27-6 and Georgia defeating Michigan 34-11. The National Championship went down in Lucas Oil Stadium in Indianapolis, Indiana on Monday January 10th, 2022. The two teams had played each other in the SEC Title game, with Alabama winning 41-24. So Georgia went into the National Championship with a chip on their shoulder.
The first and second quarter was a dogfight. With little offense and a lot of good defense being played by both teams. The first drive of the game for Alabama, they marched down but got stopped right outside the red zone and took a field goal. That would be the only points scored that quarter, after the first Alabama was up 3-0. Amazing defense was on display all second quarter. No touchdowns was scored at all in the first half. The second quarter Georgia and Alabama were trading field goals back and forth, and going into halftime Alabama was up on Georgia 9-6.
The first touchdown of the game was scored by Georgia in the 3rd. A huge 67 yard run from James Cook set up Zamir White for a 1 yard rushing touchdown. At the end of the quarter Alabama made another field goal making the score 13-12 Georgia up.
The first drive of the third quarter Georgia QB Stetson Bennett lost the ball after being hit for a sack and after review it was ruled a fumble, giving Alabama amazing Feld position. And Alabama took advantage of it, after a 3 yard touchdown pass from Heisman winner QB Bryce Young to TE Cameron Latu. Bama misses the 2 point conversion but take the lead 18-13. Georgia wasted no time answering back on a 4 play, 75 yard drive ending on a 40 yard touchdown pass from QB Stetson Bennett to WR Adonai Mitchell making the score 19-18 Georgia winning.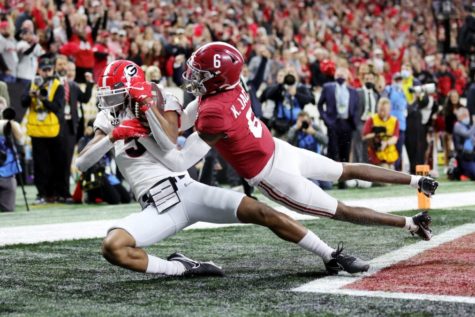 That's when Georgia started to pull away with the lead. After Georgia made Alabama punt they went on a 7 play, 62 yard drive ending in a 15 yard touchdown pass from QB Stetson Bennett to TE Brock Bowers, making the lead now 26-18.With under 3 minutes to go in the game, Bryce Young and the Crimson Tide need a touchdown and 2 point conversion to tie the game. But with 54 seconds left on the Georgia 44 yard line, Bryce Young forces a pass and it gets intercepted by Georgia DB Kelee Ringo. Ringo could've went down but he take it all the way back for a 79 yard pick-six to seal the game.
Georgia head coach Kirby Smart finally gets a win against Alabama head coach Nick Saban he was previously 0-4. And Georgia finally wins a National Championship for the first time since 1980, in over 4 decades. (All information the article can be found on ESPN)