19-year Old School Shooter Kills 2 People
former student, Orlando Harris, shoots and kills a teacher and student in St. Louis high school.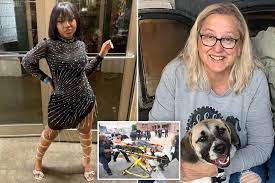 On October 24, every family's worst nightmare comes to life when receiving calls from their child's school, informing them of a school shooting that was happening in the St. Louis high school. 
A 19 year old former student Orlando Harris, comes back unexpectedly to Central Visual and Performing Arts High School, doing the unspeakable act of shooting up the school with a AR-15 style rifle, carrying 600 rounds of ammo. Although the police officers were unsure of his motives, they were left with a note from the shooter. CNN states that the note says "I don't have any friends, I don't have any family. I've never had a girlfriend. I've never had a social life. I've been an isolated loner my entire life." "This is the perfect storm for a mass shooter."
In the shooting, two people died. Health teacher Jean Kuczk and student Alexandria Bell. Both victims' loved ones give their piece on the situation. 
Jean Kuckz had stepped in front of the shooter when the armed man entered her room. Her goal was to protect her students at all cost, and she died saving their lives. Her daughter, Abigail Kuckz, was soon notified of her death. CNN interviewed her, and she responded saying that she knew her mother loved her students, and that the students saw her their mother. She was well known as a truly dedicated and passionate teacher. She cared for the students mental well-being, and did everything she could for the students to make a change throughout their high school.
The other soul who unfortunately passed away in this tragic event, was Alexandria Bell. Alexandria Bell was killed in the rampage only a few minutes, or even seconds, before the police barged into the school. Her adoptive father, Andres Bell, was soon notified of her death as well. Alexandria was a 15 year old talented dancer. Andres had actually originally found out about her death through her mother, who called him and told him the mortifying news. Her life was taken one month before her 16th birthday, a day the young student looked forward to. The father was upset, wondering how the shooter had even gotten into the school. Wondering why he chose to kill his daughter, right before she came up to celebrate her birthday in California with him, but now they were too busy trying to plan a funeral.
Orlando Harris graduated last year and back this year, 2022, on a Monday morning to commit the crime. Harris later on died in the hospital from a shoot out between him and the police.