Jude Bellingham Transfer Heat
If He Is Leaving, Where Is He Going This Summer?
Jude Bellingham is an English professional football player who is currently playing for Borussia Dortmund, or BVB. He has been at the club for three seasons; the 2020/2021 season, 2021/2022 and 2022/2023 seasons.  His BVB contract ends June 25, 2025, but he is thinking about leaving the club for a higher salary. Currently, we do not know his exact salary but if he were to resign with BVB, according to Joshua Thomas from The Sporting News, BILD stated that BVB was willing to pay Jude €15 million ($16 million) a year.
Jude Bellingham's World Cup Performance
Jude not only was impressive for his club but also his country. During the 2022 World Cup, he started all of England's games until the quarterfinals for they got knocked out by eventual finalists France. According to Joshua Thomas from The Sporting News, "Bellingham scored in England's first game of the tournament, a 6-2 win over Iran, and contributed an assist in their 3-0 victory against Senegal in the Round of 16".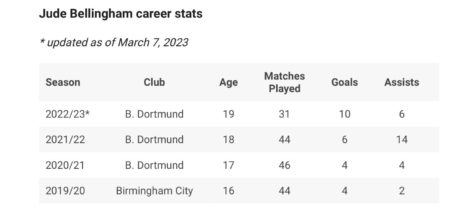 Currently, there are many clubs still interested in Jude Bellingham; the strongest clubs being Real Madrid, Manchester City, Manchester United, Chelsea, and PSG. However, the most connected to Jude is Liverpool, who said in February that he was their main priority in the summer of 2023. There is one problem in the signing of such a star, that is the price. As of a report by Football Insider, clubs will need to pay well over £100 million for the British star.