Culinary Conferences
Parent-Teacher Conference Nights Feature Meals From the 117 Bakery
During the week of parent-teacher conferences, the students in intervention specialist Ms. Michelle McDermott's class could be found cooking up conference means for hungry teachers.
Tuesday's menu was composed of veggie lasagna, baked ziti, tossed salad, and cake. On Thursday, the delicacies included chicken salad and roast beef cheddar wraps, and homemade pasta salad. Homemade brownies and cookies (pictured below) were served for dessert.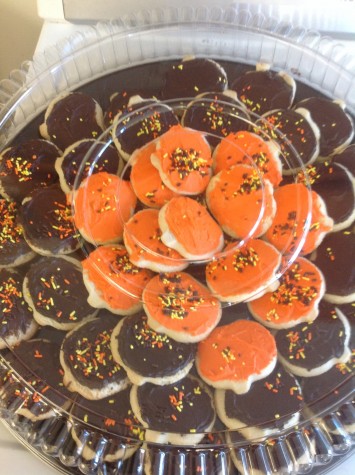 "I ate half [of the wrap], so I can finish it up at lunch tomorrow," said music teacher Joni Graham.
The teachers agreed unanimously that the menu this year outdid the complimentary meals in past years.
"He's [George Caras] always bought dinners for parent-teacher conferences in the past, so he thought that he would ask us to do it this year, since we already do lunches and breakfast," said McDermott.
However, preparation isn't the only skill students master while cooking up conference meals.
"Students are in charge of looking up recipes for the menu, making lists for what we need from the store; they do inventory lists for our business, and they keep track of all the inventory that we need," said McDermott. "Then we all work together to make all the food."
The students of room 117 (shown below, making chicken salad wraps) gained experience in life, while cooking up a better week for the staff.