Vegas Shooting
Gunman Opens Fire on Crowd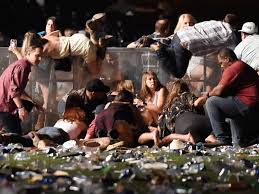 Route 91 Harvest music festival is a three-day country music event. It was near the end when shots rang out. Jason Aldean was reportedly singing the last song of his set at the concert, which was held at the Las Vegas Village at the MGM Grand, on the Strip in Las Vegas, Nevada. There were over 22,000 civilians at the concert. The first shots were fired around 10:08 p.m. The concert-goers initially believed the gunshots to be firecrackers, but soon realized it was gunfire (CNN).
The gunman, 64-year-old Stephen Paddock, is believed to have no criminal background. Although Paddock did not have criminal background himself, his father, Benjamin Paddock, was a well-known robber. Benjamin escaped prison in 1969, landing a spot on the FBI's most wanted list (The Washington Post). The FBI described him as psychopathic with suicidal tendencies. He was eventually re-captured in 1978.
Upon further search of one of the gunman's home, there were 18 firearms found along with several thousand rounds of ammunition. Authorities also found ammonium nitrate in Paddock's vehicle. According to livescience.com, ammonium nitrate is a chemical commonly used in agriculture fertilizers and is a highly explosive compound. They also discovered Paddock was not living alone, his girlfriend was 62-year-old Marilou Danley. Danley was visiting the Philippines when the attack happened, and returned to the United States late Tuesday. She was greeted by the authorities upon her arrival and was taken for questioning.
Paddock was shooting from the 32 floor of the Mandalay Bay hotel. With him were 16 firearms. Among them were a handgun and many types of assault rifles. According to CNN, an AR-15 was found, which is hard to acquire in the United States. Two windows were busted out, leaving open range to the crowd of people below.
According to ABC News, ISIS has claimed responsibility for Paddock's action, stating he was one of their soldiers. However, authorities have stated though that there have been no ties to ISIS.
Approximately 59 civilians have already lost their lives. Over 500 more were injured, some still in critical condition.
This attack is now named the United States deadliest mass shooting. The Orlando Pulse Night Club shooting left around 49 dead. Many theories have began to sprout about what the motive for this attack was, authorities will have more answers through the week. Many people in Las Vegas are dontating blood, as the death toll may continue to rise.