Biden Equality Marriage Act
Biden Signs Bill Protecting Gay and Interracial Marriage
On Tuesday December 13th, President Joe Biden signed a new bill into law that cements same-sex marriage and interracial marriage into law. Biden signed the Respect for Marriage Act before thousands of invited guests on the South Lawn at an event the White House said reflected the importance of the moment.
"Marriage is a simple proposition. Who do you love? And will you be loyal to that person you love?" the president asked from the South Lawn, according to writers MJ Lee, Betsy Klein, and Kevin Liptak of CNN. "It's not more complicated than that."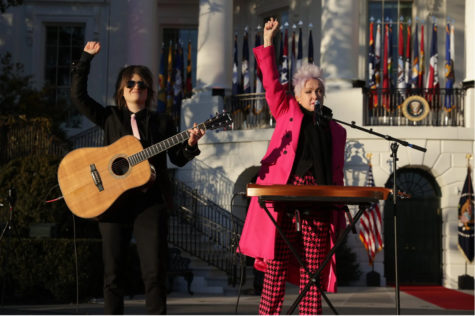 This bill was written by congress after the landmark case Roe v Wade was overturned by the Supreme Court. Shortly after, Justice Clarence Thomas argued in a concurring opinion that the Supreme Court "should reconsider" its past rulings codifying rights to contraception access, same-sex relationships and same-sex marriage, all according to writers Quint Forgey and Josh Gerstein of Politico.com.
ABC news writer Alexandra Hutzler reports that the ceremony concluded with performances from Sam Smith and Cyndi Lauper. Sam Smith, who announced in 2019 that they were nonbinary and use they/them pronouns, performed their song "Stay With Me" followed by Cyndi Lauper singing "True Colors." Appearing in the White House briefing room ahead of her performance, Lauper, who is known to be a longtime LGBTQ advocate, told reporters that day, "We can rest easy tonight because our families are validated."