The Halfway Point
An Insight on The NFL 8 Weeks In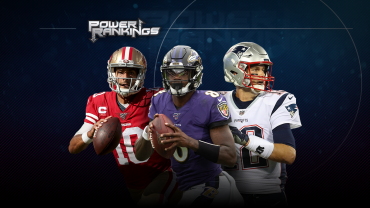 With week 8 coming and going, the NFL is officially halfway through the 2019-2020 season. Approaching the playoffs, fans are buckled in for what's to come. Currently, the New England Patriots (7-1) and the San Francisco 49ers (8-0) are the top 2 power houses in the league. The 49ers and star quarterback Jimmy Garropolo have rolled through their competition up to this point. The Patriots only recently took their first loss of the season against the Baltimore Ravens, who are also in the top 5 power rankings (https://www.espn.com/). Despite what the power rankings say, fans are arguing who the best team is in their opinion.
"The Patriots are overrated honestly," said senior Hunter Osbourne. "New England got blown out by the Ravens. The Ravens are better than the Patriots, they just don't have as good of a record due to their schedule having more competition."
Despite the Patriots success, many fans are claiming that their record fails to show their team's true talent, due to their lack of competition on the team's schedule. Many are claiming the point that the competition a team plays should speak louder than just their record.
"The Kansas City Chiefs don't have the best record, but the teams they've lost to are also top tier teams. Unlike who the Patriots play teams ranked lower in the power rankings," said senior Jeff Ullery.
The circumstances this mid-season are much different from last season's. Eight weeks into the season last year, certain top tier teams, like the Ravens, 49ers, Green Bay Packers, and Dallas Cowboys, all had losing records (nfl.com). Only the Cowboys out of that list were able to make a season turn-around to reach the playoffs. A year later and these 4 teams have turned their act around completely, making them powerhouse football teams.
"The difference in some teams in the league this year is drastic. Different teams have presented themselves as a threat and it makes things more entertaining," said senior Caden Walker.
With week 9 approaching, fans are prepared to watch how the second half of the season unfolds, with hopes that their team will make it to the post-season.